Imagine this picture-perfect scenario: Its summer. Blue skies and sunshine above. You're with friends and family, doing what what we all love to do in the summertime – drinking delicious craft beer and enjoying good company. Sounds pretty good, right? We think so, too, and we're excited to announce a fun reason to snap a photo of your summertime fun…
Throughout the month of July, we're teaming up Beertography.com for the Anchor Brewing Summer Beertography Challenge!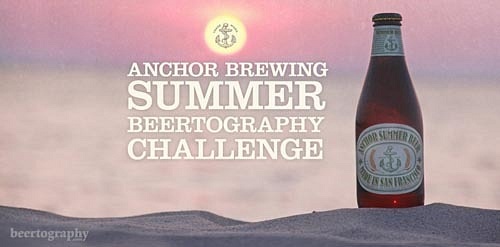 Capture a summertime moment with an Anchor Summer Beer, Anchor California Lager, or any Anchor brew, at the beach, in the mountains, at a backyard BBQ, or in any setting that feels like summer, and submit it for a chance at one of three awards.
You're welcome to use any Anchor brew for your entry, but here's a great chance to use our Anchor Beer Finder to find Anchor Summer Beer or Anchor California Lager near you to Raise Your Anchor to summer!
HOW TO ENTER
Use the entry form on the Anchor Brewing Facebook Page to submit your Summer Beertography photo, or simply tag your photo with #AnchorBeertography on Twitter or Instagram, and you'll be eligible for three awards. One entry is allowed per person, per day, through July 31, 2013.
AWARDS
People's Choice Award – The entry receiving the most votes from our community will be featured as the Anchor Brewing Facebook cover image for a week! PLUS, the winning Beertographer will receive an Anchor Steam Timbuk2 Messenger Laptop Bag to carry your laptop in style.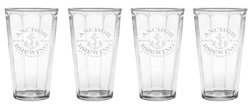 Brewer's Choice Award – The winner of our Brewer's Choice Award will receive a set of four Anchor Brewing Optic Pint Glasses to add some Anchor style to your future #AnchorBeertography, and an Anchor Brewing Bottle Opener to open your Anchor brews!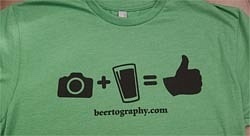 Best of Beertrography – The Best of Beertography winner will receive a Beertography t-shirt from Beertography.com.
VOTING
Members of the Anchor Brewing Company Facebook community can vote on their favorite Summer Beertography photos for our People's Choice Award. Only one vote per person, per day will be counted.
*** RULES ***
NO PURCHASE OR PAYMENT NECESSARY TO WIN
Eligibility
The Anchor Brewing Summer Beertography Challenge is open to anyone who is at least 21 years of age. Entries will be allowed from Monday, July 1, 2013 through Wednesday, July 31, 2013 at midnight.
Entries and Votes
Photos must be created and owned by you, and may not be associated with any other promotion. By submitting your photo, you agree to its use by Anchor Brewing Company and Beertography.com for display and promotional purposes only.
Award Selection
The People's Choice Award will be determined by the largest number of total votes, as voted by Facebook users who 'like' the Anchor Brewing Company Facebook page. The Brewer's Choice Award will be selected by a panel of judges at Anchor Brewing, and the Best of Beertography will be chosen by Beertography.com.
Inappropriate Content
Entries are at the sole discretion of Anchor Brewing Company, and may be refused if content is determined to be inappropriate.
Rights
By submitting a photo, you agree that your photo and/or your name may displayed on our website and other digital media, and may be used for promotional purposes only, at any time, without any fee or other form of compensation. We reserve the right to disqualify users, without notice, and for any reason.